What's In Store at Wrightslaw?



Special Ed Law & Advocacy Training (6.5 hrs)
25% Off the Wrightslaw Bundle of 4 PRINT books for $58.35 (Sorry, coupons not accepted on this product)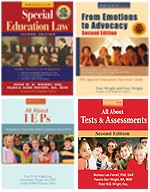 Includes Wrightslaw: Special Education Law, 2nd Ed., Wrightslaw: From Emotions to Advocacy, 2nd Ed., Wrightslaw: All About IEPs and Wrightslaw: All About Tests and Assessments, 2nd Ed.

New! The Wrightslaw Bundle is now available as an immediate PDF download. All four Wrightslaw books as PDFs for just $49.95!



SuccessStory:
How We Got an Appropriate Education and Avoided Due Process
I wanted to let you know about the difference you are making in the lives of disabled children.

After struggling with our school district for over a year to provide services to my disabled child without success, I knew I had to educate myself on the law.

First, I read Wrightslaw: Special Education Law so I would know the "facts". Then, I got MAD at the school district when I realized that the "facts" told me they were not following federal law.

Then, I read From Emotions to Advocacy and quit being mad and starting planning my strategies. IT WORKED - my child was placed on an IEP and I was SO HAPPY - at first.

Then, I attended one of your training seminars and not only LEARNED how to use the bell curve but also UNDERSTOOD the significance of the bell curve.

This eye opener was SO PROFOUND that I broke into tears when I realized that my disabled child wasn't really making any progress at all - in fact, she had REGRESSED during a two year period in which the school stated she was making "adequate progress."

Within 10 days of your seminar, I filed for due process. I was prepared because you told me to BE PREPARED in your books and I listened and followed your advice.

The good news is, we never had to go through due process because the school district was NOW willing to come to the IEP table to resolve this matter.

Had I not had the knowledge to present the facts to the school district, they would never have come to the IEP table. Because you educated me, my daughter now has "a free and APPROPRIATE education."

Thank you from the bottom of my heart.

More Success Stories

To Top
Do You Have a Success Story?



Do you have a success story or advocacy strategy that you want to share?
We are collecting stories about successful advocacy from parents and other advocates. We will post some of these Success stories on Fetaweb.com, the new parent advocacy site.
If you are interested in submitting a success story or stategy, please send an email to: success@wrightslaw.com

In the Subject line of your email, type SUCCESS STORY in all caps. You will receive an autoresponder email that contains details about our submissions policy.
Please do not send an article until after you read and review the Submissions Policy.
Copyright © 1998-2022, Peter W. D. Wright and Pamela Darr Wright. All rights reserved. Contact Us