What's In Store at Wrightslaw?



Special Ed Law & Advocacy Training (6.5 hrs)
25% Off the Wrightslaw Bundle of 4 PRINT books for $58.35 (Sorry, coupons not accepted on this product)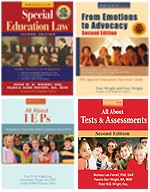 Includes Wrightslaw: Special Education Law, 2nd Ed., Wrightslaw: From Emotions to Advocacy, 2nd Ed., Wrightslaw: All About IEPs and Wrightslaw: All About Tests and Assessments, 2nd Ed.

New! The Wrightslaw Bundle is now available as an immediate PDF download. All four Wrightslaw books as PDFs for just $49.95!



Experienced Advocacy: What I Rely on Most
by an Advocate in Vermont
Recently, we heard from an experienced advocate in Vermont who shared some insight about his years as an advocate and what has served him well. We thought we would share, and also say "thank you" for the recommendation for Wrightslaw.
"In my advocacy experience the things that I rely on most often are:
Letting people save face - sometimes accompanied by blackmail/extortion/intimidation.
Writing decent goals and transition plans in the body of a letter. That way I know at the very least, they will end up in the file even if they are not used.
Documenting everything in writing.
Making sure something doesn't get documented in writing.
Having an outside expert or an expert source of information (US Department of Education / National Reading Panel, State Department of Education / EdPubs.org, etc.)
Knowing state academic content standards.
Understanding what test scores mean.
Having a growing collection of manuals for Wilson, Slingerland, OG, all the Lindamood programs, etc. and on the dark side, Reading Recovery, DRA's, Everyday Math, etc.
Making sure everyone stays focused on problem solving, including me.
Having the ability to keep talking when I need to throw up. I also have magic underwear, magic jewelry, and magic pencils for meetings where I am not sure what will blow up first.
The From Emotions to Advocacy (second edition) book and the Wrightslaw website are absolute necessities for advocacy.
And, the thing that school personnel seldom understand. The last 3 meetings I went to…the parents never would have called me if the case manager had just been honest with them. In special education this sometimes means the same as apologizing on a fairly regular basis."
Find a little more humor on The Lighter Side of Special Education.
Copyright © 1998-2022, Peter W. D. Wright and Pamela Darr Wright. All rights reserved. Contact Us