What's In Store at Wrightslaw?



Special Ed Law & Advocacy Training (6.5 hrs)
25% Off the Wrightslaw Bundle of 4 PRINT books for $58.35 (Sorry, coupons not accepted on this product)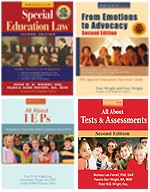 Includes Wrightslaw: Special Education Law, 2nd Ed., Wrightslaw: From Emotions to Advocacy, 2nd Ed., Wrightslaw: All About IEPs and Wrightslaw: All About Tests and Assessments, 2nd Ed.

New! The Wrightslaw Bundle is now available as an immediate PDF download. All four Wrightslaw books as PDFs for just $49.95!