What's In Store at Wrightslaw?



Special Ed Law & Advocacy Training (6.5 hrs)
25% Off the Wrightslaw Bundle of 4 PRINT books for $58.35 (Sorry, coupons not accepted on this product)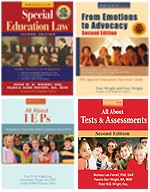 Includes Wrightslaw: Special Education Law, 2nd Ed., Wrightslaw: From Emotions to Advocacy, 2nd Ed., Wrightslaw: All About IEPs and Wrightslaw: All About Tests and Assessments, 2nd Ed.

New! The Wrightslaw Bundle is now available as an immediate PDF download. All four Wrightslaw books as PDFs for just $49.95!



Gatekeepers - Their Job is to Say "No!"
When you advocate for your child, you are likely to meet gatekeepers.
Gatekeepers limit the number of children who have access to special education services and limit the services children can receive. If you have health insurance through an HMO or managed care firm, you know about gatekeepers.
A Gatekeeper may tell you that your child is not entitled to:
The Gatekeeper's job is to say "No!"

What do you do when you meet a Gatekeeper? Do you accept "No?"
No! You persuade the team that your child's situation is different and requires a different approach.
"We Can't Make Exceptions"
School districts have systems of rules that govern how decisions are made and by whom. As you work to develop an appropriate program for your child, you may run into a Gatekeeper whose job is to uphold the "We can't make exceptions" rule.
"We can't make exceptions" is related to "We have never done that before."
If you prepare and plan, you can usually defeat both arguments.
Last revised: 07/23/08

Copyright © 1998-2022, Peter W. D. Wright and Pamela Darr Wright. All rights reserved. Contact Us